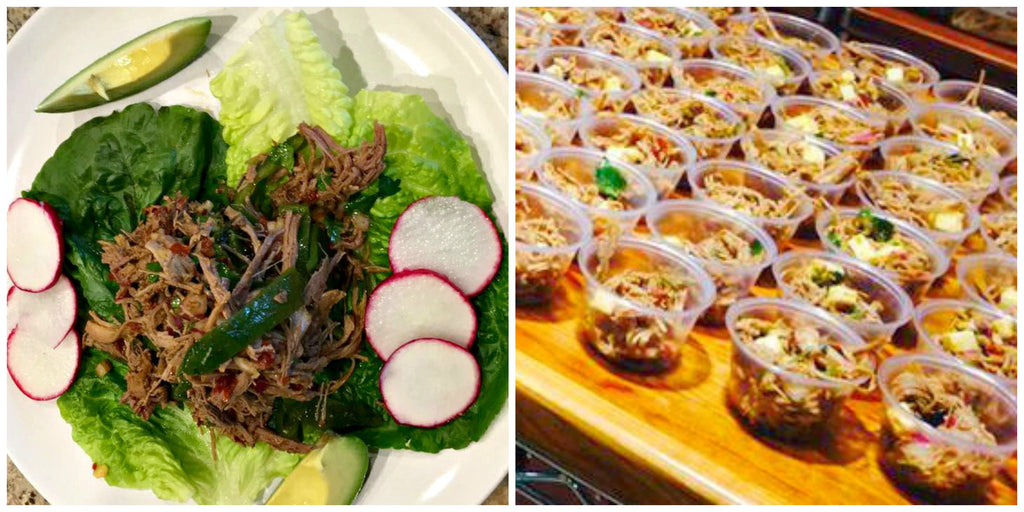 A common dish in Southern Mexico and Central American, Salpicon is recognized there as a cold beef salad mixed with onions and seasonings and can be eaten on top of lettuce, scooped into a tortilla, or served a top a tostada. It is delicious served both warm and cold, and I love serving it in small cups for large parties.
1 5lb Top-cut beef brisket, trimmed
2 Large yellow onions, peeled and sliced

4 Cups beef stock

4 Fresh Poblano chilies (or 6 fresh Anaheims)

1 7oz Can Chipotle chilies en adobo

2/3 Cup Chipotle Olive Oil
 (substitute pure EVOO or Lime Olive Oil, or a combination of all)
1/3 Cup Jalapeno White Balsamic Vinegar (can substitute white wine vinegar)
2 Cloves garlic, peeled and minced

1 Medium red onion, peeled and diced

3/4 Cup Finely chopped fresh cilantro
1⁄2 lb Monterey jack cheese, cubed 
(Exclude cheese for diets with no dairy)
1 Head romaine lettuce, separated into leaves

3 Medium tomatoes, cut into wedges

2 Avocados, peeled and cut into wedges

5 Radishes, thinly sliced
Lightly salt and pepper raw brisket
Slice onions and place half of them in bottom of large stock pot.
Place brisket on top of onions in large pot and scatter with remaining onions. Add beef stock and enough cold water to cover by 3 inches.
Bring to a boil over medium-high heat, then reduce heat to low, cover, and simmer until fork-tender, about 4 hours, turning midway though cooking time.
Remove pot from heat and let stand uncovered until brisket is cool enough to handle, about 25 minutes.
Drain chipotles, reserving adobo sauce. Seed and chop chipotles, then whisk with Chipotle Olive Oil, Jalapeno White Balsamic, lime juice, salt, and garlic in a large mixing bowl. If sauce is not spicy enough, add reserved adobo sauce.
Char poblanos over an open flame or under a broiler, turning black all over. Place in a paper bag, close, and steam 15 minutes.
Rub off skin and remove stems. Slice open, scrape out veins and seeds, and cut into strips.
Transfer brisket to cutting surface and shred with two forks or your fingers.
Stir in beef, poblanos, cheese, red onions, and cilantro.
To serve, arrange Salpicon on a bed of romaine leaves, and garnish with tomatoes, avocados, and radishes.
 Serves 12
HINT: Save the broth and cooked onions to make the most amazing French Onion Soup!
Thinly slice 5 medium onions, sauté in EVOO until caramelized (20-30 minutes)
Sprinkle caramelized onions with a little flour, stir and cook and additional minute
Add reserved broth and heat
Add salt, pepper, and thyme to taste
Spoon into bowl, top with toasted slice of French Baguette, and Swiss or Gruyere cheese