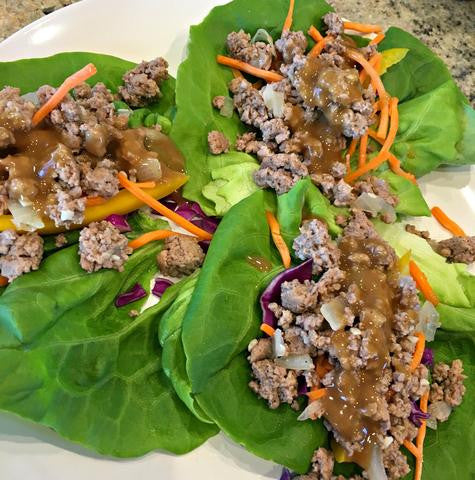 Asian Lettuce Wrap Recipe. These delicious, yet easy to fix lettuce wraps make a healthy meal that's both Paleo and Low-Carb friendly. 
 Ingredients:
 2 Tbsp           Extra Virgin Olive Oil
1.25lbs           Ground turkey
1 ½ Tbsp       Chinese 5 Spice
½                    White onion
1 Tbsp            Minced garlic
1 tsp               Salt and pepper
1                     Head of Bibb (preferred) or iceberg lettuce
Pour EVOO in pan and brown ground turkey breaking up with spatula as it cooks. Put in Chinese 5 spice, onion and garlic while meat is still pink and cook until turkey is browned. 
Sauce:
 2 Tbsp          Tahini (sesame paste)
2 Tbsp           Toasted Sesame Oil
1 Tbsp            Soy sauce
1 tsp               Coconut cream
2 Tbsp            Honey-Ginger White Balsamic
Stir ingredients together until smooth.   (Add 1 Tbsp chili paste for spicy version)
Garnishes for inside lettuce wrap:
 Shredded carrots
Purple cabbage
Colored bell peppers
Lime wedges (squeeze over top)
Place garnishes on bottom of lettuce leaf. Top with ground turkey mixture. Pour spoonful of sauce, and squeeze lime over the top. Roll and enjoy!